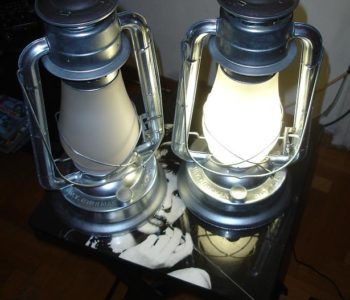 Inspired by the lantern retrofication work and "make per wish" potential, Bryan from Colorado send me two great brand new Dietz Champion lanterns to work with.
I was really impressed by those towering beasts! After exchange of ideas and discussion, he set his mind on having:
Fully dimmable light output from 30 or so lumens up to 900-1000 Lm
Warm white 3000-3200 K
External 12v power. (no batteries inside)
Safety no 1 priority under any circumstance
Primary function would be those lanterns to serve as room lights and secondary in case of emergency or camping etc to be used from a car battery!
Voila! 🙂
Photos: